Our Policies
Environmental Policy
1. Purpose
For the purpose of leaving a healthier and more livable environment to future generations, we place importance on keeping environmental impact under control for more productive and efficient use of resources. Through our projects, we carry our social sensitivity and responsibility to future generations as an environmentally friendly company.
2. Our Activities
One of the main goals of our operations is to protect environmental sustainability. Migros has ISO 14001 Environmental Management Systems Certificate. In this scope all of our environmental activities and risks are managed according to their environmental aspect and impact assessment procedures.
Our environmental management vision includes the continuous management of environmental impacts, working towards the improvement of biodiversity, establishing cooperation with suppliers to manage impacts throughout the value chain and conducting a variety of projects and campaigns to increase public awareness.
The Migros Environmental Policy sets forth that we will move forward together with our stakeholders to develop environmental awareness, to protect the environment and keep the needs of future generations a priority in order to leave them a clean environment.
3. Management
Sustainability is the responsibility of all Migros employees. This responsibility is distributed both top down and bottom up.
The Migros Board of Directors is responsible for determining strategic approaches to sustainability issues like climate change, the environment, biodiversity, human rights, occupational health and safety, governance and business ethics, responsible work applications and public development.
The Migros General Manager is responsible for implementing the strategies that are determined by the Board of Directors. The Migros General Manager carries out this responsibility with a team of senior level administrators. All senior level administrators distribute the sustainability responsibilities to their teams through specified goals.
3.1 Sustainability Committee
Migros has formed the Migros Sustainability Committee which is a separate organ formed with the participation of administrators that represent all of the main functions of the company under the chairmanship of the Human Resources, Industrial Relations Assistant General Manager and includes representatives from senior management. The Committee works to bring to life projects to improve the integration of sustainability across Migros and to enhance the sustainability performance of Migros in order to respond to its stakeholders' expectations The Migros Sustainability Committee monitors and analyses sustainability issues concerning risks and opportunities that may impact Migros's assets and operational and commercial activities; determines the indicators that will be used in monitoring performance, conducts projects to realize performance goals and reports results to the General Manager and senior management. The performance that is achieved in sustainability has become part of the corporate performance evaluation system.
Our Company's Sustainability Committee audits and monitors the efficiency of our environmental policy on a yearly basis by obtaining information from the department supervisors. Our company's environmental policy is known and embraced by all of our employees. The supervisors of all departments that are on the Sustainability Committee make sure that employees follow the Company's environmental policy in practice. These sub units make it easier for the policy to be conveyed, for training programs, internal audits as well as for environmental goals to be determined and performance monitored.
3.2 Stakeholder Integration
As Migros, we give all our employees, customers, suppliers and all other stakeholders the opportunity to be involved in our environmental work in order to form a value chain. With the waste collection and recycling projects we conduct at our stores we raise customer awareness and with the quality inspections we subject our supplier to, we question the environmental impacts that result from operations and require improvement from suppliers who do not meet our expectations.
3.3 Education
We convey the Migros Environmental Policy to all our employees and people under the responsibility of our organization. By training all our employees on environmental issues, we are committed to raising awareness regarding environmental responsibility amongst all our employees and to communicating with our stakeholders and sharing information as necessary.
4. Measuring Environmental Impact
We constantly monitor the environmental impacts of our operations, keep them under control and reduce them to comply with environmental laws.
As Migros, we set targets in line with our sustainability strategy and UN Sustainable Development Goals with direction of the organizations we are a member and/or signatory of, and publicly disclose our performance every year through our sustainability reports.
4.1 Protecting Biodiversity
Migros places great importance on environmental protection work. All of our operations are in urban areas and are authorized by public authorities. We have no units operating on land and wetland areas with high biodiversity. As a result, there has been no negative impact reported from our operations on water sources, soil or natural habitats.
In 1992, Turkey signed the Convention on Biological Diversity developed by the United Nations Environment program, approved it in 1996 and began implementing it in our country in 1997.
The main issues that the Convention on Biological Diversity focuses on are;
Protection of biodiversity;
The sustainable use of biological sources;
The fair and equal sharing of benefits resulting from the use of genetic sources.
As a signatory of this contract, all of the legal permits issued by the government include the subject of biodiversity. As Migros we only open our stores after all of the legal permits and licenses have been obtained. In this context our stores are only allowed to be opened after all environmental assessments have been made.
4.2 Development of Projects to Reduce Greenhouse Gases
As an environmentally friendly company we strive to reduce greenhouse gas emissions in our business activities.
In line with this policy, we focus on making improvements to our cooling gas systems, energy efficiency and the efficient use of resources. We develop projects to control and reduce greenhouse gas emissions to help combat climate change.
4.3 Waste Management
We work to protect natural resources and undertake recycling. We encourage "reduction, reuse and recycling" across our business.
In line with our zero waste goal, we work to treat and dispose of all waste generated from our operations, convert it to energy so that it can be used again in our economy. We aim to reduce waste at source and make sure that natural resources are used efficiently.
Taking into account the Food Recycling Hierarchy, we conduct various projects to reduce food loss and waste, including monitoring, categorization, and analyses and improvement studies.
4.4 Water Management
We, at Migros, work to achieve water efficiency in all of our operations as part of our environmental sensitivity to protect natural resources.
We are aware of the critical importance of water in terms of human health and as Migros we place great importance on providing our employees and all of our stakeholders with clean water in line with how much we value human rights.
Throughout Migros water is used in the stores, the General Headquarters, branch directorships, distribution centers, produce warehouses and the MIGET and Gebze Meat Production Center for employee needs and cleaning.
Making sure water is used efficiently and our efforts to prevent environmental impacts by meeting the legal requirements of waste water produced by our operations have an important place in our environmental management procedure. We follow innovative applications closely in the scope of our efficiency efforts and implement such applications in our stores, production facilities, distribution centers, General headquarters and Branch Directorships. All of the water used in our departments on a monthly basis is entered on record, tracked and reported to upper management.
Most of the water used in our operations is supplied from the municipal water mains. There is no water source that is significantly impacted by the company's use of water. The waste water in the stores is released into the sewage system.
In addition to this we monitor all positive and negative changes that could result from activities to improve our water consumption and other Migros operations and we take the necessary action.
Our company operates with the goal of reducing the 'amount of water consumed per person' and 'daily water consumption per sales square meter' and sets 5 and 10 year goals for this purpose.
While we, as Migros, continue working in compliance with all legal requirements we also work voluntarily to reduce water consumption. We raise awareness so that all of our stakeholders can improve their environmental consciousness and water consumption habits. We increase our area of impact by including our stakeholders and NGOs and by collaborating with them in our work that concerns the community.
In addition to all this, we conduct procurement processes according to Migros Responsible Sourcing Policy. Besides, environment and water are at the top of the list for items we monitor in the annual inspections we conduct with our suppliers.
We encourage our producers to do agriculture in accordance with the procedures and principles of Good Agricultural Practices (GAP) in order to reduce water consumption during the production of fruits and vegetables and prevent the depletion of the water resources.
5. Auditing of Suppliers
In order to improve sustainability over the life cycle of our products, we place importance on the improved performance of suppliers and therefore the protection of biodiversity.
6. Reporting
As Migros, we disclose the scope and results of our environmental management system activities to the public every year.
In order to support constant improvement, ensure periodic review and take precautionary measures we implement an environmental management system. We base this on the ISO 14001 Environmental Management System Standard.
We have been reporting our CO2 emissions to the international organization called CDP (Carbon Disclosure Project) which motivates companies to disclose their environmental impact since 2014.
With our work in sustainability, Migros has been the one and only brand from the retail sector to be included in the "BİST Sustainability Index" since 2014.
Migros Ticaret A.Ş. last modified date: 18.06.2021
Human Rights and Equal Opportunity Policy
1. Purpose
Migros Ticaret A.Ş. serves with a work force that includes a variety of languages, religions and ethnic origins in both Turkey and foreign subsidiaries. In this context the subjects of "Human Rights" and "Equal Opportunity" are among the main policies of our Migros Human Resources management approach. As Migros we respect human rights and we work proactively to identify and prevent any adverse human rights impacts that may be generated from our operations.
2. Equal Opportunity
Migros is devoted to the UN Human Rights Universal Declaration recognized on an international scale and the ILO labor standards and observes all relevant activities.
In all of our human resources processes from employment to wages there is no discrimination based on age, gender, race, religion, language, ethnic origin, sexual preference, belief, marital, social or economic status, disability, pregnancy or military service status.
Migros Integrated Human Resources Systems measure and monitor the abilities, skills and performance of our employees with general and objective criteria in the framework of the equality principle. As Migros, we provide equal training, promotion, career development and salary opportunities to all our employees based on objective evaluation results.
We support the participation of women in professional life and organize trainings and projects to increase the number of women employees and administrators in the company. We act in compliance with laws on the employment of disabled and disadvantaged individuals.
3. Collective Agreement and Unionization
Migros has respectful work environment to the rights of unionization of its employees. We support the unionization of our employees; we make collective agreement with the Union within constructive dialogue and carry out the requirements of this agreement.
4. Forced Labor
We do not allow our employees to be forced to work against their will. None of our employees are ever pressured for any reason and all our employees are employed under equal conditions, by their own free will in positions that are suitable to them.
Within this scope, Migros also accepts and carry out the Three Priority Industry Principles of Consumer Goods Forum (CGF).
Every worker should have freedom of movement (retention of identity papers)
No worker should pay for a job (demanding recruitment fees)
No worker should be indebted or coerced to work (withholding of wages)
5. Child Labor
Migros determines its employees according to relevant procedures and principles. The employment of child labor is never allowed at our stores, our headquarters and our regional directorships.
6. Prevention of Mistreatment and Abuse
We treat our employees with respect and honor and never allow any of our employees to be mistreated. We do not allow our employees to be exposed to any verbal and physical abuse.
7. Working Hours, Salaries and Benefits
We manage the total income package of employees based on job evaluation results and ensure that the remuneration package is competitive by distinguishing and rewarding performance as well as the remuneration packages being offered in other leading companies in Turkey. We conduct our operations incompliance with the valid laws about salary, working hours, overtime and fringe benefits. We conduct the studies to reduce the overtime period of our employees and also support to maintain their work-life balance.
8. Work Health and Safety
Migros has TS ISO 45001 OHSAS Work Health and Safety Management System certificate and meets the requirements of this certificate. We provide our employees with a safe and healthy work environment and comply with the safety and health laws and regulations in force and our in-company requirements. We constantly work to improve health and safety conditions in our workplace including identifying danger and finding solutions to health and safety problems.
Migros Ticaret A.Ş. last amendment date: 18.06.2021
Human Resources Policy
1. Purpose
Migros Ticaret A.Ş. structures its strategies with a customer satisfaction approach that raises the retail standards in the countries it operates in order to achieve sustainable quality, reputability and sector leadership. Migros Human Resources aims to provide the human resource that will create a competitive advantage in our company on realizing these strategies, to develop the systems to constantly motivate and manage human resources and implement these systems in line with the corporate principles. It aims to establish and implement Human Resources Systems that correspond with the company strategies, values and serve for employees' happiness and engagement.
Migros Human Resources aims to provide the human resource that will create a competitive advantage in our company on realizing these strategies, to develop the systems to constantly motivate and manage human resources and to make sure these systems operate in integration with each other.
2. Our Employer Brand
As Migros Ticaret A.Ş. our employer value proposition (EVP) for existing and potential employees is "Good Job, Good Future". Our main employer qualities that we have determined together with our employees and capitalized on are as follows:
We are a reliable and corporate family
We aim for the top
We are constantly developing
We are innovative
We provide all our employees equality of opportunity and strong career development opportunities.
3. Search and Selection
The main purpose of Search and Selection is to provide the human resource that will create a competitive advantage in realizing the corporate strategies within the necessary time using the most objective and effective evaluation tools to the company.
It covers all the human resource needs and completion of them within the organization.
In our recruitment process, there is no discrimination based on age, gender, race, religion, language, ethnic origin, sexual preference, belief, marital, social or economic status, disability, pregnancy or military service status. In the candidate selection process, they are selected according to their experiences, skills, competencies required by the position.
4. Internal Application System
The purpose of our internal application system is to provide for our workforce needs from internal sources and thus give our own employees different career opportunities in the company to increase their motivation and engagement.
5. Performance Management System
Through our Performance Management System, it is aimed to guide our employees' career development/back up, income package and development plans in line with evaluation results by making sure that the goals to be reach in line with the company strategies are embraced by all our employees and the performance of our employees are monitored in a fair and productive manner.
Our Performance Management System, in which KPI (Key Performance Indicators) and OKR (Objectives & Key Results) structures are used together has transparent and dynamic features and increases the common goal and cooperation with its infrastructure that supports instant feedback and cross-functional teamwork.  The personal performance notes achieved as a result of the Performance Evaluation comprise the input for career development/back up, income package and development plans.
6. Job Evaluation System
The purpose of our Job Evaluation System is to determine the relative contributions of work to the results of the organization in a fair and methodological manner and to assess the relative size of jobs.
According to the job evaluation methodology each varying position in our company is evaluated according to the size of the job, knowledge-skill, responsibility and problem-solving criteria. Job families and a level structure were formed unique to the company by forming groups of roles which have common characteristics taking into consideration with vision, strategy and goals; and these groups have been organized into levels according to objective criteria.
Job Evaluation provides critical input for Performance Management, Reward and Remuneration, Search and Selection, Training Development and Career Planning/Back Up processes. It is a platform that can be used as the infrastructure for all "Integrated Human Resources Systems" and impacting remuneration in particular.
7. The Remuneration System
The main purpose of Remuneration Management is to manage the total income package of employees based on job -evaluation results and outside and inside of company salary balances with fair and competitive salary policies distinguishing and rewarding performance.
The Remuneration System is based on the salary policies which are determined annually according to job family/level of positions, the salary market, the existing salary structure of the company and the ability to pay. The employee raises are determined according to the PIR (position in range) calculated with these salary principles and the results of individual performance evaluations.
Within the framework of our remuneration policy, which covers our employees in our operations, there is no difference in salary and fringe benefits among employees with similar duties, seniority and performance. Starting level pricing in our stores is based on minimum wage and fringe benefits, regardless of gender.
The salaries and benefits of blue-collar workers are evaluated in the scope of the Collective Labor Contract.
The salaries determined according to the above procedures are then approved by Migros Human Resources & Industrial Relations Assistant General Manager and our General Manager.
8. Competency / Potential Evaluation / Strategic Human Resources
Competency is the observable behavior that includes the knowledge, skill and attitude that distinguishes the highest level of performance.
The purpose of our Competency Evaluation process is to determine the individual competency profile that is compatible with our company culture and to match the requirements of a job with the qualified employee. Also, the purpose is to create the human resources necessary to support the strategic human resources planning of our company and maintain it as well as determine the backup for key positions and identify the Potential & Star candidates.
The compatibility of our employees to the position profiles are evaluated in line with the organizational needs planning that supports our company's productive growth strategy; critical position backups and potential & star candidates are determined, they are approved by management decision in Strategic Human Resources Planning Meetings and then finalized.
9. Development Planning
The Development Planning process planned each year for Store Management and every 2 years for Administrative Units starts with the announcement of competency evaluation results. Our employees, who can view their evaluation results on the system, fill out the Development Agreement on the system and determine which skill they will improve and which development activities (in class training, online training, article, book, complementary activity) they will participate in and enable the evaluations to provide input for the development process. The filled form is first submitted to the manager of the employee then to the Training Department for approval.
While the requests in Development Plans of employees for the development tools such as online training, article, book, –complementary activity are automatically assigned, in class training is organized by the "Migros Retail Academy" and announced by email.
10. The Reward Systems
Migros Reward and Premium Systems aims to reward differentiated individual/team work, customer admiration and appreciation through differentiated branches in Reward System to recognize the achievements of employees and increase their company engagement and motivation in line with the company goals.
11. Career Planning Management (Appointment/Promotion Processes)
The Career Planning Process; is a fair and reliable process that is carried out at certain periods to support the company's productive and profitable growth strategy by appointing/promoting qualified candidates suitable to the profile of the positions within the framework of a certain standard depending on the principles of objectivity and transparency.
In the promotion processes; for our store employees, being successful in the results of the competency & performance evaluations in the Store Career Recipes booklet and in the results of Migros Development Center are taken into account. They are expected to meet the training and seniority criteria sought for each position and not to have any warning/caution. They are also required to be successful in exams and interviews for some positions.
This process is evaluated for our employees in HQ within the framework of the job analysis forms created by their job size and according to the headcount situation. The career development of our employees is impacted by the requirements of the position they are in, the level definitions of job families they are depending on and changes of their job size. Job Evaluation provides critical input for Performance Management, Reward and Remuneration, Search and Selection, Training Development and Career Planning/Backup processes.
12. Employee Relations Management
The aim of our Working Life Evaluation Survey is conducted by an independent company is to measure the level of satisfaction and engagement of our employees, to identify what needs to be improved and prioritize them. The results of this survey guide our improvement activities on working life.
Migros Ticaret A.Ş. last amendment date: 18.06.2021
Anti-Bribery and Anti-Corruption Policy
1. Purpose
As Migros, at the core of our corporate responsibility approach lies compliance with laws and corporate governance principles. With our commitment to high ethical standards and the Migros Ethics Rules, we work together as a whole to prevent bribery and corruption.
With this policy, which is a supplemental part of the Migros Ethics Rules, we aim to present our commitment and our approach to this subject very openly and clearly.
2. Scope
The Anti-Bribery and Anti-Corruption Policy does not just concern the company's employees but all business partners who act on behalf of the company or provide services to the company.
The following groups are within the scope of this policy:
All company employees including the Board of Directors,
Supplier and contractor companies,
Outsourcing companies and employees,
People and companies that work directly or indirectly for the company like representatives, distributors and agencies are all in the scope of this policy.
3. Responsibilities
Company Management;
Our Company Management provides the necessary support for this policy to be implemented and creates and develops the internal control systems necessary to prevent bribery and corruption. It makes sure the necessary communication channels for reporting policy violations is established and takes precautions to maintain the privacy and safety of the individuals who report such violations.
The management makes sure that the necessary examinations and investigations are conducted concerning any complaints, warnings and claims that are submitted. They make sure audits are conducted to check compliance with laws, regulations, procedures and that policies and corrective actions are taken.
The Administrators, Employees and Business Partners;
All of our employees are obligated to accept our Policy on Anti-Bribery and Anti-Corruption and act in accordance with the principles that are specified in our policy.
The administrators are responsible for making sure that the principles in this policy are understood by the employees and business partners under their charge and direction, are implemented and maintained and that any complaints, warnings or claims are notified via our company's communication channels.
Employees cannot, under any circumstances or by anyone, be forced to act against this policy. All company employees are responsible for reporting violations of this policy and any suspected situations to their administrators and/or the company communication channels.
If people and companies related to Migros are involved in any acts that are not legal or ethical our company will also be liable; therefore all of our business partners, especially suppliers and contractors, are expected to act in compliance with laws and regulations as well as to adopt the Migros Ethics Rules, relevant directives and procedures and this policy's text and rules.
4. Fighting Against Bribery and Corruption
As Migros, we make it our principle to comply with the universal legal rules, laws and regulations that relate to bribery and corruption and the ethical and professional principles in all the countries where we operate and are represented.
This policy reinforces the execution of all our operations in compliance with laws, regulations, procedures, the Migros Ethics Rules and other regulations in a correct, fair and honest manner. It has been implemented in line with our sensitivity for making sure the rights of all our stakeholders are protected.
We, as Migros, prohibit all bribery and corruption in our operations in all countries where we operate or are represented. It is prohibited for all those covered by this policy to propose any payment or object of value in order to gain any benefit in an illegal or unethical manner, even if it would be in favor of the company, or to accept such a benefit from other companies or individuals, or to be involved in any illegal or unethical acts that could be considered to be bribery or corruption, even if such practices exist in that country or branch of work.
We protect the legal rights of government agencies, our suppliers, our customers, our employees and our other stakeholders. Regardless of the monetary value or occurrence of the requested favor, even if the value of the benefit is very low or the commitment promised in exchange has not been realized yet, a related subject is considered as an act of violation of the Anti-Bribery and Anti-Corruption Policy.
In addition to bribery and corruption being acts that are a violation of business ethics, any incident would be dealt with punitively by Migros. As a consequence, our employees are expected to treat these topics with vigilance and consider them to be their personal responsibility both in and outside their professional life.
With our open-door policy, if the Migros Ethics rules or the Anti-Bribery and Anti-Corruption Policy are violated, our employees and other stakeholders can contact our administration directly through our communication channels. If our company sustains a loss due to the violation of these rules, we also have rules for taking action concerning our employees and protecting their rights.
4.1. Main Areas of Risk concerning Bribery and Corruption Acts
Migros sees bribery and corruption as part of risk management applications and these issues are investigated with a risk focused approach through our internal audit system. The risks that are identified and their potential impacts are subjected to assessment throughout our internal audits. Also, our company evaluates corruption risks in the scope of high-risk jobs from the aspect of employee bribery.
4.1.1. Gifts and Hospitality
Our employees are responsible for complying with laws and regulations and rejecting any gifts such as objects, services, cash and checks from third parties that could affect the preferences and decisions of our company or are given for this purpose for conducting the work in their own field of responsibility no matter what the value is. Our employees may not propose any gifts, hospitality or other offerings that could be or are given for the purpose of affecting the decisions of other companies concerning our company. All of our employees are responsible for being careful about the issues that are specified in the company publications concerning rules on gifts and hospitality and for acting in compliance with the Migros Ethics Rules.
4.1.2. Intermediaries
Since an act of corruption committed by third parties could even be considered to have been committed by Migros, sufficient and careful monitoring must be done to make sure that intermediary companies have the right qualifications for the work they conduct and business partnerships need to be established with companies that will act in compliance with our company policy and not damage our reputation.
4.1.3. Those who work in Representation, Suppliers and Contractors
People who work in representing our company by establishing a relationship with Migros and all suppliers and contractors are expected to accept compliance with all legal regulations and all laws on bribery and corruption that are in place.
People acting as an agent of Migros who provide management consultation and are involved in operations like accounting, payroll, information technologies or facilities management must not establish relationships with people and/or companies like suppliers and contractors that they suspect to have offered bribes; and if they have such a relationship should end it immediately upon learning of such a situation.
4.1.4. Political Donations
At Migros, it is illegal to make any payments as well as provide any financial and/or in-kind benefit to political parties, politicians or any company to obtain an advantage in procedures.
4.1.5. Contributions for the Purpose of Aid and Sponsorships
Any contributions and sponsorships requested from Migros for the purpose of providing aid must be legal and in accordance with the regulation, policy, directive and rules issued by Migros. All contributions and sponsorships for aid must be made in a transparent and open manner. This is achieved by determining transparent criteria for the selection of recipients and listing large donations that are made publicly.
4.2. Encountering or Suspecting Bribery and Corruption
All of our employees are responsible for reporting any situations of bribery and corruption they encounter or suspect to their supervisors and/or our company communication channels immediately.
Employees are responsible for reporting any of the situations listed below.
If a bribe is offered to any of our employees or their colleagues
Any relationship of benefit and/or conflicts of interest that our employee witnesses or knows
Any kind of non-compliance discovered in the company's records
Any attitude or acts that can be construed as patronage or backing interests in tenders and purchase-sales
Providing any benefit to any of our customers or suppliers in violation of legal regulations and our internal procedures
Any company or individual within the company or outside forcing our employee or their colleagues to act in violation of the Migros Ethics Rules.
Migros customers and business partners may forward their notifications about ethical issues by e-mail via etik@migros.com.tr.
4.3. Sanctions Against Acts and Attitudes of Violation
Just as all regulations, procedures and instructions are carried out in full, in all jobs, the Anti-Bribery and Anti-Corruption Policy must be adopted and implemented by all stakeholders covered by this policy.
Any violation of our "Anti-Bribery and Anti-Corruption Policy" by suppliers or contractors results in the termination of our work contract.
Any violation of these rules by our employees is handled by our departments including Human Resources, Internal Audit and Legal Department and reported to Migros Management. If these rules are violated by our employees who are union members, disciplinary meetings are called in which union representatives are present in accordance with collective employment contract rules. Any violation of Migros Ethics Rules or our Anti-Bribery and Anti-Corruption Policy by an employee may result in the termination of their employment contract.
4.4 Monitoring and Reporting
The Migros Ethics Committee meets four times a year with the participation of senior level administrators to evaluate internal audit findings on corruption and bribery and issues concerning ethics principles. When high level risks are identified the Migros Ethics Committee that meets with the participation of senior level administrators evaluates these risks.
As part of our corporate governance our Audit Committee and Ethics Committee prepares reports on our policy of combating bribery and corruption for our senior administration.
Migros Ticaret A.Ş. last amendment date: 18.06.2021
Migros Competition Law Compliance Policy
Migros Competition Law Compliance Policy
The purpose of Competition Law Compliance Policy (the "Policy") is to set the principles for ensuring of all activities of Migros in compliance with the competition law legislation.
1. Core Principles
The main purpose of competition laws is to protect and foster the free and fair competition. Competition laws prohibit agreements and regulations that prevent, restrict, or distort competition between competitors. Migros undertakes to strictly comply with all applicable competition laws within the scope of its activities. Migros employees, executives and business partners (all other third parties with whom Migros have business relationship) must conduct their work in accordance with legislation and Migros Policies. In this regard, acting in accordance with competition law regulations is an important part of the role and work of all executives and employees.
We expect from all our executives and employees to know and question any situation that may violate the law. In this regard, Migros monitors the compliance of the activities in terms of competition law, takes the necessary actions regarding possible risks, and carries out the necessary training and audit activities on a continuous basis in order to ensure awareness of all employees.
Under this Policy, Migros' employees, executives and business partners are obliged not to communicate in a way that may be uncompetitive, not to act in line with anti-competitive decisions taken by Association of Undertakings , and not to share information that may cause a violation of competition law.
Any violation of this Policy may result in severe consequences, including legal, administrative and criminal penalties on Migros' related executives, employees and business partners.
2. Implementation of The Policy
2.1 Rules to Be Considered in Relations with Competitors
Agreements that may be directly constituted between competitors or indirectly through suppliers, in particular, to influence the sales conditions, may lead to a breach of competition law. Migros' employees are not permitted to communicate in such a way as to prevent, distort or restrict competition between competitors directly from their competitors or through their suppliers. In this regard;
Without the approval of Migros Legal Directorate,  business-related negotiations cannot be held with competitors.
As part of Migros's activities (not limited to these), any information that may be considered commercially sensitive, such as prices, timing and rates of pricing changes, costs, profitability, strategies, campaigns, marketing plans and strategies, investments, future sales, customer/supplier information, cannot be shared directly or indirectly with competitors through suppliers.
Meeting minutes shall be written down, indicating that the meeting has a legitimate purpose and is not being used as a forum against competition law between competitors  when associations of undertakings meetings are held on a lawful purpose.  If there is any content contrary to the Competition Law, the meeting shall be declined by the Migros' representative and annotated in the meeting minutes that the representative left.
Migros' employees explicitly respond to anti-competitive proposals or suggestions by stating that they will not participate in any anti-competitive activity.
As to compete effectively, our activities on collecting information are only based on public information, press releases, public annual reports, official records, trade journals and speeches from company executives.
2.2 .Rules to be Considered in Relations Between Suppliers and Other Third Parties
Migros acts in compliance with competition rules within the frame of agreements and communications in relations with all its suppliers and business partners. Knowing the fact that suppliers and other business partners are sometimes competitors of each other, any sensitive information to competition among these businesses shall not be shared. In order to not be a party to any declarations or actions that may be called a violation of competition with competitors, Migros also requests from its suppliers or business partners not to share the information of Migros with its competitors.
2.3 Use of Communication Channels
As part of compliance with the Policy, Migros' employees and executives must act very carefully regarding their posts in all kinds of communication channels. In this regard, competitively sensitive information such as future prices, stock, campaign, investments cannot be shared in any communication channel.
Corporate communication tools for Migros' employees and executives are Microsoft Outlook, Microsoft Teams and telephone, where Migros e-mail addresses are registered. Communication with these tools must always be carried out in accordance with competition compliance rules and Migros' corporate identity.
Our business partners are also required to use these corporate communication tools in all kinds of communication with Migros as a part of our activities. It is forbidden to communicate with Migros's employees through instant messaging programs or similar applications about business.
3. Authorities And Responsibilities
All employees and executives of Migros are responsible for complying with this Policy, implementing Migros' relevant procedures and controls in accordance with the requirements in this Policy.
In case of Migros' employees and executives deem that a certain action is inconsistent with this Policy or the legislation in force, Competition Compliance Department under Migros Legal Directorate should be contacted immediately.
Migros' employees may consult to the Competition Compliance Department for their questions related to this Policy and its application. Violation of this Policy may result in significant disciplinary actions including dismissal. If this Policy is violated by any third parties, the related agreements may be terminated.
4. Effective Date
This Policy takes effect on 01.02.2022 and is maintained by Migros Legal Directorate.
Health and Nutrition Policy
1. Purpose
As Migros, we have a major role in better life quality with our customer-oriented, people-focused approach, sensitive to the community and environment, reliable, innovative and efficient in both our national and international operations. In line with this approach, we provide a wide product portfolio that supports a healthy and good life ensuring the high level of quality expected by Migros' customers.
2. Products that Support Good Living
We provide a diverse portfolio of quality products for our customers in order to meet the expectations for a healthy and good life. We aim to make products that support good living more accessible to our customers, thanks to our increasing number of stores, as well as the product range and brand selections we offer.
In our stores that have a suitable place for such a section, we create "healthy and good living" sections for our customers.
We have a variety of brands and products that offer easy access to foods that are organic, sugar-free, gluten-free, lactose free, or with reduced sugar, fat, salt or calories and portions that have been adjusted for a single serving.
At occasions such as World Celiac Day and Diabetes Week, we organize campaigns with relevant products to create consumer awareness.
2.1. Certified Product Activities
As Migros, we aim to cooperate with our suppliers and government agencies to provide our consumers with healthy and safe products and to contribute to the healthy nutrition of future generations, to develop methods of production that are sensible to people's welfare, to the environment and animals and we encourage our suppliers to do the same.
Some examples of standards and certifications that Migros utilizes to achieve product safety are organic product certification, the Good Agricultural Practices certification in vegetable and animal production, the Ecotex certification, standards such as ISO 9001- GMP - ISO 22000 - ISO 14001 - OHSAS 18001 - SA 8000, the FSC certification, the Palm oil and Soya certification and the CE- LVD - EMC certifications.
We consider it a priority to work with companies that produce and supply according to the criteria specified in the "The Good Agricultural Practices – GAP" project conducted in collaboration with the Ministry of Food, Agriculture and Livestock. We are the first retail company in Turkey to implement a control system with GAP in fruits and vegetables, based on safety criteria on issues like farming models that protect human, animal and environmental health; and agricultural pesticide analysis and traceable products.
With our "Good Agricultural Practices in Animal Production," we provide our customers with white meat and eggs bearing the 'Good Agriculture' logo that have undergone inspections based on human health and animal welfare sensitivity.
2.2. Private Label Products
For the purpose of meeting the good living demands of our customers, we have private label brands produced by our contracted suppliers under the name of "Migros, M-Life, and Anadolu Lezzetleri".
The M Life product portfolio offers products in categories such as organic, limited calories, gluten-free  that support good living, and it has been designed for customers who wish to maintain their health, as well as customers who have health issues.
2.3. Anadolu Lezzetleri (Tastes of Anatolia)
Our Anadolu Lezzetleri product line is comprised of products that are unique with their regional or cultural features, produced through traditional methods and "have a story". With this project that has been brought to life after an identification of special tastes and local seeds in an in-depth scan of all regions throughout Turkey, we aim to embrace the cultural wealth of Anatolia and pass it onto future generations. At the same time, by allocating a special Anadolu Lezzetleri section in suitable stores, we are offering our customers access to these special products that can only be produced by a small number of local chefs or farmers.
2.4. Red Meat Products
At MİGET, Turkey's largest meat processing facility in the food sector, we produce all of our own meat needs and inspect the red meat products at every stage from the farm to the dinner table. Laboratory analyses and veterinary inspections are carried out at our facility and all of our production processes are TSE certified. Our products are developed according to the expectations of Turkish consumers and produced in hygienic conditions. You can reach our products with adjusted portions for one meal-consumption in all our stores. We use state-of-the-art food packaging in our packaged products. We carried the immune and collagen content, which entered our lives even more in the Covid period, to our communications and supported these products with campaigns.
3. The Nutrition and Calorie Content on Product Labels
As Migros, we have information on the packaging of all the food products we sell, including energy and nutrients in accordance with the "Turkish Food Codex Labeling and Consumer Information Regulation". In addition, all of the label information (ingredients, allergens, energy and nutrients, origin, etc.) of all the food products we sell on our online sales channels as Migros Virtual Market, Macro-online and Taze Direkt are presented to our customers.
4. Public Health Work
As Migros, we play an important role in improving the health and fitness of the communities we serve. We develop important projects for community health with our "balanced nutrition" and "take action" activities under our motto of "Good Living" to encourage our customers to embrace a healthier lifestyle. We conduct communication and education programs to raise consumer awareness on the importance of healthy living, balanced nutrition and physical activity and regarding the need to have a balanced calorie intake.
Migros Ticaret A.Ş. last amendment date: 18.06.2021
Responsible Sourcing Policy
1. Purpose
With this policy we, as Migros, present all the rules that we expect our suppliers to comply with in light of our responsible sourcing principles, as well as our policy for conducting supplier audits.
Migros publishes its Responsible Sourcing Policy on the website, as well as all online and mobile platforms that it uses for communicating with suppliers.
2. The Principles that Suppliers are expected to Comply with
Migros procures services from companies that have been established according to laws and operate with respect for laws and makes payments to all companies, including agencies, that they are involved in representation/proxy and business partnership relations with in compliance with laws.
As Migros we expect the suppliers that we work with;

To be respectful to human rights principles,
To comply with national and international ethical rules,
To comply with work health and safety rules,
To protect the environment and natural resources,
To act according to all national and international regulations in all processes they provide like products and services, commercial, logistic, production and financial work and human resources.
We, as Migros, expect all our suppliers to not only comply with mandatory requirements but also to work on constantly improving themselves over time in the scope of the "Migros Quality Protocol" and we provide all the information support that suppliers may need.
2.1 Compliance with the Human Rights Principles
As Migros we are a member of the Consumer Goods Forum – CGF Board of Directors. The CGF board of directors accepts responsible forms of working that comply with and encourage human rights and reasonable working conditions in parallel with the United Nations Guideline Principles on Professional Life and Human Rights and the ILO Declaration and Basic Principles and Rights in Professional Life. Within the scope of Social Sustainability work the board has focused on its members complying with supply chain labor standards and developing solutions to the issue of members preventing forced labor and abuse in their supply chains. As Migros we not only comply with the international principles of Human Rights as a CGF member, but we take on responsibility and demand that our suppliers comply with these standards as well.
2.1.1 The Freedom to Organize and the Right to Collective Labor Contracts
Our suppliers must respect the rights of their employees to join or not join unions and their freedom to organize and must act in accordance with all local and national laws regarding collective labor contracts.
2.1.2 Prevention of Forced Labor and Abuse
Our suppliers must prohibit any kind of forced labor and abuse including labor under imprisonment, labor under military, slavery or human trafficking and must act in compliance with national and international laws concerning forced labor and abuse.
2.1.3 Child Labor
Our suppliers must act in compliance with national and international laws and regulations concerning the prohibition of child labor.
2.1.4 Combating Discrimination
Our suppliers must prevent discrimination and verbal and physical harassment in the work place. Discrimination must be prevented in all employment activities. Processes that are based on talent, performance and experience should be implemented. Our suppliers must act in compliance with national and international laws and regulations concerning discrimination and harassment.
2.1.5 Work Hours & Salaries
Our suppliers must act in complete compliance with laws and regulations concerning salaries, overtime and other benefits.
2.2 Compliance with Codes of Conduct (Combating Bribery and Corruption)
Our suppliers must not act in any way that could compromise the mutual trust in their business relations against employees, stakeholders, business partners, suppliers, customers, rivals, the environment and the community.
Our suppliers are obligated to keep the information they have learned about Migros during their business relations with us as confidential. They may not share this information without the permission of Migros Ticaret A.Ş. with any private individual or legal entity.
Any connection between our suppliers and corruption, money laundering or bribery incident is unacceptable. Our suppliers must not offer gifts, monetary benefits or invitations to civil servants or other representatives of public agencies that would influence their objectivity or violate existing laws.
Migros Ticaret A.Ş. may not offer any gift, benefit, right or assistance to its employees or other suppliers that they work with, which may overshadow their impartiality and be considered bribes. Therefore, the offer to employees of any special organization, holiday or arrangement other than business meals cannot be accepted. Other than the chocolates and daybooks that are presented at holidays and New Year the presentation of large gifts is prohibited.
2.3 Compliance with Occupational Health and Safety Rules
Our suppliers must provide their employees with a safe and healthy working environment. They must act in compliance with all national and international laws, regulations and rules concerning health and safety.
2.4 Protection of the Environment and Natural Resources
For the purpose of yielding a healthier and more livable environment to future generations, we expect all of our suppliers to keep their environmental impact under control and place importance on production and efficient use of resources.
2.5 Constant Improvement Principle
In line with the "Migros sustainability strategies," in addition to monitoring the "Good Quality and Safe Product" production of our suppliers, we follow their performance concerning employee rights, work health and safety, work conduct, environmental impact and safe production. In this context, we are audited by audit companies that are certified as per ISO 17020 regarding the requirements of product risk analysis covered by the Migros Protocol. Audits comprise both those that are announced with prior notice and those where no prior notice is given. We expect our suppliers to constantly improve their audit performance and we provide assistance and guidance to our suppliers to contribute to their constant improvement.
During the procurement of local, national and international products we provide support for constantly developing our suppliers though guidance on product quality and compliance with legal regulations.
Migros supports its suppliers to develop products that are produced according to sustainability principles. In this regard, we determine suppliers with national and international certificates and encourage those of our suppliers who are not certified to start the process.
Production in accordance with sustainability principles is supported and importance is placed on products that have certifications for palm oil, cocoa, soy, coffee, paper and wood products.
3. Supplier Selection Processes
Before deciding to work with our business partners, we conduct a thorough review and investigation of financial, legal and ethical risks and opportunities associated with companies. We investigate the commercial history of related companies through official registrations and bribery, corruption and ethics through digital platforms. In addition to these studies, supplier candidates are pre-audited through quality control criteria and question lists used in the existing supplier audits and the decision to work with them is taken according to the results of these audits. Candidate suppliers undergo both product safety audits and ethical/social audits. We do not work with the candidate supplier who fail these audits.

We don't cooperate with the supplier companies when we ascertain their noncompliance with national laws, regulations and international norms within the scope of bribery, corruption and ethics, and with our company's Anti-Bribery and Anti-Corruption Policy and Code of Ethics. We also add these companies to our Black List.
4. Supplier Audits and Product Inspections
As Migros, we follow a special audit program for our suppliers and inspect the production facilities of our suppliers in line with a Migros protocol that has been prepared especially with independent external companies.
Suppliers' product safety practices are audited under the 'IFS Global Market' audit control list recognized by GFSI (Global Food Safety Initiative). Operational activities of suppliers are monitored and their impacts on humans and the environment and sensitivity to ethical and social issues are audited in the context of SEDEX criteria which includes environmental management, occupational health and safety, ethical and social compliance requirements. According to their success in the audits, suppliers approved by Migros were evaluated in three categories as "Gold", "Silver" and "Bronze" and also, they had the opportunity to announce their successes on the GC Portal.
Our supplier companies that do not achieve a sufficient number of points as a result of the audits are issued a warning and requested to correct the issues that are deemed insufficient. Suppliers that fail to achieve an improvement in 3 consecutive audits are no longer purchased from and the commercial relationship is terminated.
We use global standards as our guide for product safety and aim to provide products in healthy conditions to maintain the unconditional trust of our customers. In this context, not only do we inspect production facilities, but we also inspect all of the stages of procurement until the product reaches the consumer through using both the laboratories, we have established within the Distribution Centers and contracted Accredited Outside Laboratories. As a result of these inspections, products that conform to legal regulations and the Migros standards are presented for sale. All of our stores are inspected without notice by our own staff and Independent Outside Companies to maintain the continuity of the Quality Management System.
Migros Ticaret A.Ş. last amendment date: 18.06.2021
Privacy and Data Security Policy
Migros Ticaret A.Ş. Privacy and Data Security Policy
Migros Ticaret A.Ş. ("Migros") Privacy and Data Security Policy ("Privacy and Security Policy") aims to assist you in understanding why, how we collect data and what data we collect, what we do with this data and how we ensure its security. This information is important. Therefore, we recommend you to take the time to read our Privacy and Security Policy carefully. Also, if you are a member of a Migros web site, application or Money Club Card, we remind you that you can find the controls necessary to manage your information, to protect your privacy in Membership Procedures section of your relevant membership, which you access with your password. You can utilize Membership Procedures section of our service channel that you share this information, or this link or our following service to correct/update your personal data:

Our Customer Services Centre: 444 10 44

Migros Management considers the application of Migros Information Security Policy as one of the vital processes of the company.

It is important for us you to know clearly how we use your information, how we you ensure your security and how you protect your privacy while you are using our services.

Our Privacy and Security Policy explains the following:
• What information we collect and how we use it?
• How our customers access and update their information?
• How we protect the collected information?

You can let us know your questions, concerns or complaints regarding Our Privacy and Security Policy through our 444 10 44 call centre. Please contact us for all your requests and questions in this respect.
What information we collect and how do we collect it?
As Migros, we collect your personal information from you with the intention of offering better services to you, our customers. Personal information we collect enables us to notify you about the latest products, shopping deal opportunities, personal deal offerings and future activities of Migros. Moreover, the data we collected from you also enable us to receive feedback from you in the most accurate way about our services and departments by maintaining information exchange with you, the customers.

If you want to take a look at our Migros web sites, e-trade sites of Migros, Money Club card privileges and/or our applications, we do not request any personal information from you; however, if you want to participate in any features and services offered by our websites, applications and/or services, we may ask you to provide various personal or demographic information. Any information defining you personally and/or being used for communication is defined as personal information in our Privacy and Security Policy. These may include, for example, your name, postal address, e-mail address, telephone number, date of birth, age, sex or fields of interest and preferences associated with your personal data.

Your personal data is only collected with your consent (for example, if you provide them deliberatively by using online forms found on our websites and/or applications or during Money Club card application) and information collection process is generally materialized as follows:

• When you enrol in/become a member of websites or applications
• When you take part in message boards and other online activities
• When you send an announcement or notice to your friend
• When you participate in questionnaires/votes
• When you send feedback through "Contact Us" form
• When you enter information with respect to business (for example, curriculum vitae delivery, media requests, etc.)
• When you have request of any kind requiring personal data input
• When you are spotted out by in-store camera recording system

Type and amount of information collected with respect to abovementioned characteristics will vary depending on the activity. The data we collect during Migros service and website memberships (Apart from credit card information) are stored by us. This information may contain the following (but not limited to these):

• Name, surname
• Postal address
• E-mail address
• Telephone number
• Shopping information

You may be asked to create a user name and/or password for some activities or memberships. Moreover, you may be obliged to provide additional demographic information. This information may include the following:

• Your age or date of birth
• Your gender
• Your frequency of use
• Other information about you


Mobile applications prepared within Migros may collect some information from the users automatically. This information includes;

• Brand-model of your mobile phone,
• Internet Protocol address (IP) of your mobile phone,
• Operating system of your mobile phone,
• Location information


(Within the framework of permission you have given on your phone for use of location information). You can stop this information flow at any time by removing the application from your phone (You can adjust the data collected through your phone from the application settings and permissions section on your phone).

Social Media program of Migros covers platforms such as Facebook, Twitter and Instagram, etc… Social media content and the features being used are subject to own privacy policy of the relevant platform. Please read the privacy policies of the aforementioned companies (Facebook, Twitter, Instagram, etc.) in order to obtain information about the social media privacy policy.
Cookies and Other Technologies
We may use cookies while collecting the data to be processed in line with the purposes explained in our Privacy and Security Policy. Cookies are small text files stored on your computer or mobile device when you visit an internet site, and they keep various information concerning your visit.

Nowadays, many internet browsers have cookie blocking mode while visiting internet sites. If you activated cookie blocking mode on your web browser, you may not benefit from some features we developed for you on our web site.

As in the case of many websites, some information such as Internet Protocol (IP) addresses, browser type and license, internet service provider (ISP), referring and exit pages, operating system, date/time stamp and clickstream data are collected and saved automatically.

Another technology we use on our website is the "web beacon". Web beacons (pixel tag), collect information such as the number of times our web site being displayed.

Migros web sites may also use other technologies such as online services, interactive applications, e-mail messages and ads, cookies and web beacons. Information collected by cookies and other technologies is considered as non-personal information and is used only to improve the service we offer to you. Your visit to our web sites means you give your consent to use of cookies and web beacons within the scope of this policy.

Link clicking URLs connecting to the content on the Migros web site are used in some of our e-mail messages. When customers click on one of these URLs, they pass through a separate web server before reaching target page on our web site. These link clicking data are monitored with the intention of determining interest in certain subjects and measuring the effectiveness of our customer communication. If you do not want to be monitored in this manner, you must not click on the text or graphic link incoming in e-mail messages.

In-store Camera Recording System

Camera recording system is used in our stores for the safety of our customers and operational purposes (for example, state of in-store traffic, etc.). Relevant recordings may be shared with the official authorities under circumstances requiring legal procedures.
How Do We Use the Collected Information?
The information being collected from you is used in line with the purpose you provided us your information, during collection of information or in line with the purposes explained in our Privacy and Security Policy. Option may be offered to use of your information for a different activity or service other than the activity or service you requested while enrolling to our websites and/or applications, providing information or updating your information.

Also, we may use your personal and/or demographic information for our analysis works. In this way, we can continually improve, personalize, customize the products and services we offer you and meet your requirements in a better way. These include merging, updating or expanding in different ways sometimes the data we obtained from external sources and/or third parties and your personal data collected through our websites and/or applications. We do not sell, rent and/or exchange your personal data.

We use and store your personal data in compliance with the statues at large with the intention of;

• Making our website and application easier to use,
• Promoting our products and services,
• Sending your online and mobile orders to your address,
• Acquainting ourselves with our members and improving our communication,
• Offering general and special campaigns/advantages,
• Running marketing activities and advertising campaigns,
• Making our departments and services customer specific and personalized,
• Performing data analysis, research, surveys and other customer satisfaction applications/notifications

We need your information in order to exceed customer expectations, to ensure their satisfaction expected from us by reaching out to them and to remain closer to the people we serve. Your personal data is not used aside from the purposes indicated above.

Migros Customer Communication Program ("Program") is customer oriented marketing program offering general and special campaign, promotion, discount, introduction, opportunity to benefit from clubs-specific advantages and similar benefits that may also be performed together with the Program partners included in;

• Money Club Program Partners
• Migros E-Trade Sites Program Partners


and updated list, to the program members in all places of business including those in the electronic environments operated by Migros.

By becoming a member of our service and departments, our customers warrant commercial electronic message to be sent to them through all kinds of electronic media by Migros and Program partners, within the framework of the applications that may be carried into effect directly or indirectly by the Program, with respect to general and special campaigns, advantages, product, service introductions, advertising, market research surveys and other customer satisfaction applications, notices.

Members give permission for their personal data such as shopping information, name, surname, mobile phone numbers, date of birth, home city, sex, etc., location information that can be accessed due to electronic programs and non-personal information to be collected in order to be used with the intention of good and service promotion, image building, product, service and communication improvement, getting acquainted with its members, auditing, data analysis, research, understanding trends, and also to be used in marketing and advertising services, being stored in data recording systems, being shared with the execution partners such as Program partners, GSM Operators / Social Networking Sites / Cargo companies, etc. for the abovementioned purposes. Unless member indicates otherwise, he/she acknowledges his/her current data to be stored, shared, processed, in line with similar purposes listed within the scope of this article, also after the expiry of his/her membership.

Migros may share cumulative (batch) customer statistics with third parties such as its business partners (including its investors), press, etc. in a manner not to contain the personal data in the individual detail.
The Principles We Observe When Processing Your Data
When we are processing your data, we observe:

• Data to have specific scope,
• Procedures to be performed for legal purposes,
• Procedures being in compliance with law and good faith,
• Data being related, limited and restrained with the purposes that its being collected or processed,
• Processing being performed with up-to-date data,
• Data being stored throughout the necessary period for the purpose of processing.
Accessing and Updating Information
You can make sure that your contact information, preferences and other personal data are correct, complete and up-to-date by accessing your account through our websites and/or applications. Password, user name, credit card information or other personal data are never requested from you through e-mail. This method aimed at stealing and using your personal data in bad faith is called "Phishing". When you receive a message appearing to be sent by us, but requesting your personal data, you must not reply to such message.

We are aiming to enable you access your personal data whenever you use our services. If this information is incomplete or inaccurate, we run the process necessary for you to update or delete this data (if it is not required to be retained for a justified ground concerning the company or legal purposes). We may ask you to verify your identity first to fulfil your request when you update your personal data.

You can use the membership section with a password on the website of our service channel that you share this information or this link or our following services to query your information saved in our database or to correct/update your personal data:

Our Customer Services Centre: 444 10 44
Your Rights Concerning Your Data Being Collected
You have certain rights concerning the data we collected within the framework of this policy. You can;

• Find out whether the data was processed or not,
• If processed, obtain information concerning this,
• Find out the purpose of processing and whether used in compliance with the purpose or not,
• If any, find out the third parties it is being shared with domestically and abroad and the data being shared,
• Ask for it to be corrected in the case of it being inaccurate or incomplete,
• In the case of the reasons necessitating its processing being removed or data losing its actuality, ask for your data to be deleted or destroyed,
• If you have requests concerning its deletion or correction, you can ask your request to be notified to the third parties to which the data being transferred.

You can contact us through our 444 10 44 call centre or this link for your relevant requests.
Our Data Security Criteria
Migros takes all the necessary technical and organizational precautions in order to ensure privacy and security of sensitive personal data and your personal data collected over our websites and/or other applications. These precautions feature various subjects also including the following:

• Storage of your personal data in a secure, non-public working environment that can be accessed only by Migros employees (within the scope of nondisclosure agreement made with our employees), our intermediaries and contractors
• Authentication of identity of our users, of whom we store personal data, through website or application before accessing this information


Migros takes the relevant precautions including administrative, technical and physical precautions for the protection of your personal data against loss, theft and misappropriation, and also against unauthorized access, sharing, amendment and destruction. Migros uses Secure Sockets Layer (SSL) protocol encryption in online services such as E-Trade sites and on all websites, where personal data being collected. You must use a SSL-supported browser such as Safari, Firefox, Chrome or Internet Explorer to purchase products from these services. By this means, you can protect privacy of your personal data transmitted over internet.

Migros Privacy and Security Policy and practices applied to ensure privacy are explained to the customer/individual upon the request of the customer/individual. Migros abides by the PCI DSS (Payment Card Industry Data Security Standard) regulations established with the intention of ensuring data security in card payment systems and ensures secure data transmission and operation in card payment systems. Your credit card number is transmitted to your bank after being encrypted by our online credit card application and never shared with third parties. Your credit card information is not stored/retained by Migros.

Migros, at its sole discretion, may require 3D payment option for the customers to complete their orders.
Validty of Privacy and Security Policy
Our Privacy and Security Policy is valid for all services offered by Migros (including advertising and research services, etc.).
Leaving Information and Announcement List
If you do not want to take part in our announcement and information list, you can leave any time by updating your preferences. Accessing and controlling authority of the commercial-electronic messages sent from Migros for notification and communication purposes is in your hands. If you do not want us to contact you while your membership to our service and departments continues, you can use your "CANCEL" right in digital media, and actualize your cancellation procedure by sending free SMS to 7447 or contacting our call centre. You will not be contacted until an approval invalidating this being sent by you. If you do not want to benefit from our services any longer and select to drop out of the membership, you can call our customer services line or apply to information departments found in our stores.
Privacy Questions and Reminders
This policy is subject to change due to continuous changes in internet technologies and internet-based business models not having a constant structure. All kinds of changes within the scope of our Privacy and Security Policy will be announced to our visitors over our websites and/or applications. We recommend you to visit our website periodically to follow the changes to be made on our Privacy and Security Policy.

Please contact us, if you have any questions or concerns about Migros Privacy and Security Policy or data processing.

Spam e-mails

Spamming is sending e-mail with the intention of advertising, marketing or promotion against your will and without your consent.

As Migros, we do not send spam e-mail. Sending advertising intended e-mail without the consent of the other party is illegal. We do not use your personal data (also including your e-mail address) directly for marketing or advertising purposes without your consent. At the same time, we do not share your personal data with any third party, who may use it for spam e-mails.

Our websites, services and applications offer you opportunity to receive marketing information through e-mail. Each e-mail sent to you by Migros offer you the opportunity to stop receiving marketing e-mails at any date.

If you believe for any reason that you are receiving spam e-mail from a Migros company, please contact us immediately.

Causes of Action and Miscellaneous

Migros may be obliged to disclose your personal data due to law, judicial process, actions and/or demand incoming from the public authorities within or outside the country. When it is deemed necessary or appropriate to share your data for national security, enforcement of law or other issues of importance for the public, your data may be disclosed to the relevant official authorities.

Migros Ticaret A.Ş. last amendment date: 18.06.2021
Occupational Health and Safety Policy
1. Purpose
Migros aims to provide a safe workplace environment to protect its employees, business partners and customers against health and safety risks that could occur in the workplace; and follows a proactive approach to sustain this practice.
With the belief that providing a healthy and safe working environment is important for a sustainable future in professional life, Migros works to create a common 'safety culture' with all its employees, business partners and customers.
Migros aims to reduce possibilities of accidents and improve on the number of work days lost by providing employees with occupational health and safety training, information, site inspections, equipment and improved physical conditions.
2. The Occupational Health and Safety Management System
Migros has created the occupational safety concept in the framework of the Quality Management Systems together with the quality and productivity principles. By standardizing all of the processes being implemented at all locations and establishing the Occupational Health and Safety Management System, Migros has earned a TS ISO 45001 Occupational Health and Safety Management System certificate.
Migros carries out the conditions of the Occupational Health and Safety Management System standards that it manages. By providing its employees with a healthy and safe workplace, Migros complies with the health and safety regulations in force and the internal company requirements. By making sure that resources are used efficiently the company increases management and communication efficiency.
With the external and internal auditing processes conducted by Migros the company validates the efficiency of its management system, determines areas of improvement, detects possible hazards, and finds solutions to health and safety issues and works for improvement.
3. Occupational Health and Safety Processes
3.1. The Occupational Health and Safety Board:
In order to monitor and report on the workplace's compliance with healthy and safe working conditions Migros established the Occupational Health and Safety Board, which is comprised of the senior management at the Migros General Headquarters and reports directly to the Company General Manager, in 2013. The board represents the entire Migros work force and is responsible for facilitating and monitoring occupational health and safety concerning all the activities of the company.
The Occupational Health and Safety Board holds regular meetings in the general headquarters structure, with the participation of occupational safety experts, workplace physicians and the managers of relevant departments in accordance with regulations to monitor the situation and make decisions. The decisions made in the board are implemented in the field. The evaluations of the board and the decisions that are made cover all the activities of the company.
3.2. Occupational Health and Safety Training
Migros provides its employees with occupational health and safety training before they start working and periodically during their employment. At locations where services are purchased and at start of employment on the job and periodic OHS training is provided by occupational safety experts and workplace physicians. Additionally, training that is provided to employees at all locations is reinforced with remote training. In this scope employees are given basic occupational health and safety, occupational health and safety management system, emergency, employee representative, board member, safe use of equipment, first aid and hygiene training.
3.3. Occupational Health And Safety Risk Assessments
Migros prepares risk assessment and analysis reports at all workplaces in the scope of the occupational health and safety regulations and management system work and renews its risk assessments according to legal terms and conditions.
The risk assessment reports are followed by corrective and preventative actions and constant improvement work.
3.4. Occupational Health And Safety emergency action plans
Migros prepares emergency action plans at all workplaces in the scope of the occupational health and safety regulations and management system work and renews these plans according to legal terms and conditions.
In the scope of the Prepared Emergency Plan training is provided to firefighting, search-rescue-evacuation, first aid and power source response teams by local firefighting organizations, specialist companies and occupational health and safety experts and annual drills are organized.
3.5. Occupational Health And Safety environment and health monitoring
Occupational health and safety experts, workplace physicians and freelance consultants will make visits to all Migros locations to inspect OHS processes and applications and enforce corrective/preventive activities when necessary.
The records of work accidents and near miss incidents are kept, reviewed and reported by the occupational safety experts. Workplace physicians conduct inspections on the workplace conditions, tests on new hires and periodic physical examinations.
3.6. Occupational Health And Safety Control and Measurements
In order to make sure that the work equipment being used by general headquarters and branches, shops, distribution centers, fruit-vegetable warehouses and MİGET employees meet OHS conditions periodic inspections are done by authorized companies on the work equipment. Improvements are made on the equipment according to periodical inspections.
Workplace physicians and occupational health experts make sure measurements of conditions are taken in response to the determinations they make during site inspections.
Migros Ticaret A.Ş. last amendment date: 18.06.2021
Severance Policy
Our company applies the severance and notice compensation provisions of the Labor Law no 4857. Employees - or the legal heirs thereof in the event of such employee's death - whose employment contracts have been terminated in accordance with one of the circumstances requiring payment of a severance compensation and who have been employed with our company for at least one year, shall receive a severance payment based on their term of employment with our company.

Article 17 of the Labor Law no 4857 is applied in those circumstances requiring the service of a notice. The principles outlined in the Collective Bargaining Agreement are applied to those of our employees who are included within the scope of the collective bargaining agreement. The dismissal severance is paid by serving notice on the employee that his/her employment contract is to be terminated and either granting the employee leave to find other employment as per the time periods specified in the Labor Law no 4857 based on such employee's seniority or payment of the employee's salary for the duration of such notice period.

Migros Ticaret A.Ş. last amendment date: 18.06.2021
Internal Audit Quality Policy
1. Vision: To provide futuristic assurance and consultancy with proactive activities in accordance with international standards.

2. Mission: To maintain and improve organizational values with advice and foresight by carrying out assurance and consultancy activities in accordance with international standards and professional ethical values.

3. Internal Audit Quality Principles

Internal Audit Directorate is reponsible for the internal audit processes of Migros Ticaret A.Ş. As Migros, in the retail sector where we are leader with our pioneering and innovative practices, our indisputable principles are to make a difference and improve business processes by creating high employee awareness, audit, assurance and consultancy activities.

We aim to provide fair, high quality, reliable and efficient audit services that will carry our service quality forward, adhering to the legal regulations and corporate governance principles.

As a company that has achieved to reflect our understanding of sustainability on our business formation; our leadership on growth, productivity and profitability in the retail sector is the assurance of our internal audit understanding. We have an understanding that is based on our internal customers, our business partners and employees as being honest with each other, trusting and protecting ethical values.

We record all kinds of transmissions that reach us from our communication channels with the awareness that it will carry our quality service forward. We use recorded data in monitoring and reporting, and aim for continuous improvement. We evaluate the communications in the privacy-oriented direction, update our way of doing business by offering objective and fair solutions.

We ensure continuous improvement by achieving the results of International Auditing Standards by providing training and resources necessary for our employees who perform internal audit activities.

We regard our effort on establishing, developing and maintaining Quality Management Systems as the most important value to carry Migros Ticaret A.Ş forward.

Migros Ticaret A.Ş. last amendment date: 18.06.2021
Own Brand Products Quality Policy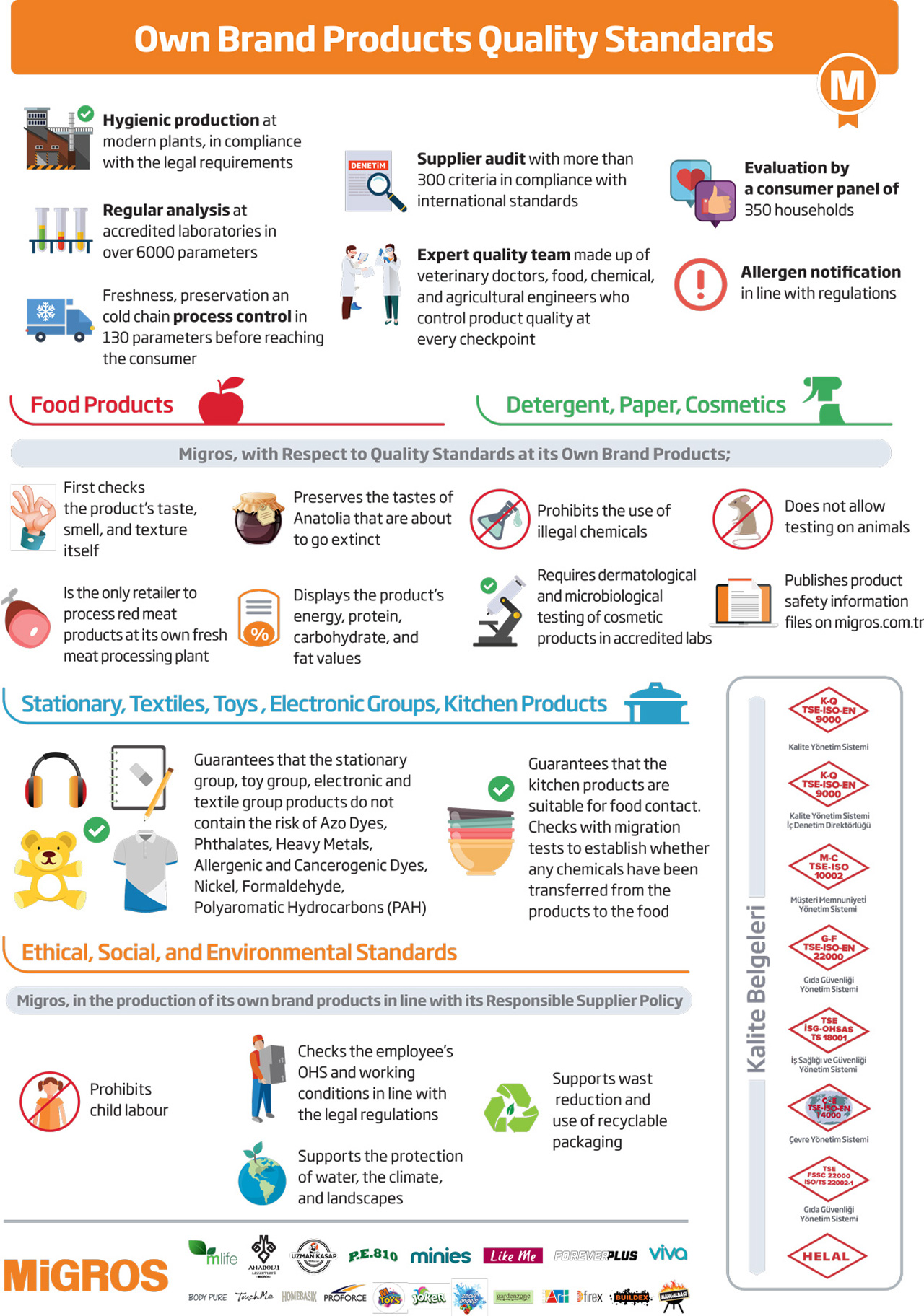 Quality, Food Safety, Customer Satisfaction, Occupational Health and Safety, Environmental Management Systems Policy
As Migros Ticaret A.Ş.;
In the Turkish Retail Industry, where we lead with our pioneering and innovative practices, it is our indisputable principle to make a difference and provide services that exceed expectations by creating high consumer awareness, and to ensure continuous improvement by adhering to legal legislations and regulations and corporate governance principles.
We aim to provide contemporary, high quality, reliable and affordable service that will improve the quality of life of our customers. The uncompromising basis of our understanding of service is to provide healthy products under healthy conditions to our customers. <
As a company that has succeeded in reflecting our understanding of sustainability to our way of doing business, our sector leadership in sustainable growth, efficiency and profitability is the assurance of our understanding of quality. We adopt a working culture based on being honest with each other as our customers, business partners and employees, providing trust and protecting ethical values.
We record, monitor, report and aim for continuous improvement, with the awareness that all kinds of messages that reach us through our communication channels will advance our service quality. We evaluate the messages in line with the principle of confidentiality. By offering objective and fair solutions to the messages, we improve our way of doing business in line with the suggestions.
We aim to create a safe working environment in order to protect our employees, business partners and customers against workplace health and safety risks. We follow proactive approaches to ensure the continuity of our workplace environment.
We value experience and creativity of our employees. We provide the necessary resources and technology to support their behavioral and professional development, and ensure that they receive training and gain know-how.
We take the responsibility of being sensitive to social and cultural issues and contributing to social values.
In order to leave a healthier and livable environment to future generations; we attach importance to the efficient and economical use of natural resources by keeping our environmental impacts under control. As an environmentally friendly company, we aim to transfer our social
We see the effort that we spend on establishing, maintaining and developing Quality Management Systems as the most important value for carrying Migros Ticaret A.Ş to the future.
Migros Code of Ethics
1.Migros's Responsibilities Towards its Employees

Migros completely fulfills all of its legal obligations towards all of its employees. In situations where the requirements of law are not sufficiently clear, Migros consults those who have specialized knowledge on the matter.
Migros is mindful of the rights of its employees within the framework of its rules of business ethics in situations where the rule of law provides for less.
In all hirings, promotions, and appointments, the only criteria to be taken into account are the qualifications for the position: Migros creates equality of opportunity among its employees.
Migros does not involve itself in the personal affairs or private lives of its employees and holds all of the information it has about its employees in strict confidence.
Migros provides training opportunities for its employees to improve themselves professionally and personally.
In all of its dealings with its employees, Migros does not discriminate in any way on the basis of sex, age, ethnic origin, or creed.
In matters that are related to employees, Migros seeks to include their opinions as much as possible in any decisions that are concerned with the Company's future.
Migros provides healthy and safe working conditions as dictated by the requirements of law and of the Company's business and it seeks to improve them to the best of its ability.
Migros holds in strict confidentiality and does not divulge any private information (such as medical records, shopping habits, economic circumstances etc) about its employees that it may come into possession of in any way whatsoever.
2. The Responsibilities of Employees Towards the Company
Migros employees strictly reject any offers of material or moral benefits from third parties made to influence their conduct of activities falling within the areas of their individual responsibility.
Migros employees inform their immediate superior whenever entering into a one-on-one business relationship with any company in which a close relative works, has a partnership interest, or is the owner and they take action with his knowledge.
Migros employees exhibit maximum attention and care when fulfilling the duties given to them and they make every effort so that the work they do can be of higher quality, faster, and more economical.
Migros employees refrain from any act or behavior that would damage the Company's image and reputation. During working hours they remain within the modes of dress and behavior that have already been established by company management or are generally accepted.
Migros employees are neither indifferent nor unresponsive when confronted by any situation that is contrary to the Company's interests and they notify the appropriate Company units instead
Migros employees avoid waste and use all of the Company's fixtures, tools, and equipment for the purposes for which they are intended. They do not make use of anything the Company provides them to do their jobs for their own private benefit.
Migros employees do not divulge outside the Company any confidential or private information that they become aware of as a consequence of their position or the work that they do. Without the written approval of the Company's management they do not give interviews or make statements of any kind to any media organization.
3. Migros's Responsibilities Towards Other Companies
Migros complies with the requirements of law in all its activities.
No unjustified gain may be secured from any individual or organization for any reason whatsoever. Migros makes all its goods and services procurement decisions in line with established and publicly disclosed criteria.
It is important for Migros that its business partners refrain from tarnishing the image and reputation of Migros in their own business activities and that they give importance to Migros's proven business values.
Migros checks to ensure that the services it obtains on a continuous basis from other organizations are provided in compliance with the requirements of law and it takes necessary action accordingly.
Migros does not divulge confidential information it receives from a company that serves it to third parties without that company's permission.
4. Migros's Responsibilities Towards the Community
Migros makes every effort to uphold the standards that its customers expect of it.
Migros seeks to fulfill all of its tax and other obligations in full and on time and to be an example to the community on such matters.
Migros does not make humiliating, derisory, or offensive statements concerning other companies, organizations, products, or individuals.
Migros takes care in all its activities to avoid causing harm to the natural and historical legacy and to behave in accordance with customs, mores, and traditions and it complies with all the requirements of law on such matters.
Migros defends its business ethics in its sector and strives for calcification, furtherance, and acceptance of these principles.
5. The Responsibilities of Employees Towards Employees
Migros employees do not divulge private information concerning other company employees that they come into as a consequence of their jobs except where it is a requirement of their jobs.
6. In General
The Migros Committee on Business Ethics set up within the Company is responsible for dealing with and clarifying any issues that are not dealt with by the principles set forth above.
Information Security Policy
Migros Ticaret A.Ş. management;

Undertakes to ensure that the controls geared toward safeguarding the confidentiality, integrity and accessibility of information systems and the data found on such information systems for the purpose of processing, transmission and storage are developed, operated and up to date and to delineate the required managerial responsibilities in order to make sure that the security risks arising from information systems are being managed sufficiently.

Within the scope of information security controls, for each control process; clearly shall define process owners, their roles, activities and responsibilities, and periodically reviews these powers, roles and responsibilities.

Undertakes to provide the resources and environment necessary to produce the targeted goals in relation to information security controls. Shall implement regular controls in order to determine whether the targeted goals have been achieved and for continual improvement.

Establishes information security policies related to the management of information systems, reviews them at least once a year and ensures them to be up-to-date in line with the changes or technological developments in this particular field of business and notifies them to all relevant stakeholders.

Shall continually monitor and evaluate the effectiveness, adequacy and suitability of information security controls as well as the anticipated risks and the activities aimed at mitigating the effects of such risks. Shall repeat risk analysis related to information systems at least once a year or in case of significant changes in information systems. Shall ensure that major deficiencies in controls as may have been identified as a result of the evaluation are reported to the senior management and that the necessary measures are implemented.

Shall prepare business continuity plans to ensure continuity of all critical business processes according to risk priorities. Determines acceptable downtime and maximum acceptable data loss for critical business processes in business continuity plans.

Is aware of the importance of the human factor in the approach to information security. As a result, it shall support the provision of the training necessary to ensure that employees' awareness of information security is cultivated and technical competence is achieved. Shall implement the activities necessary to ensure that all personnel are aware of Migros Ticaret A.Ş. Information Security Policy and act in accordance therewith. Shall ensure that the disciplinary process will become applicable in the event of risks intentionally created by people despite such efforts to raise awareness on information security.

The Information Security Manager is responsible for updating and providing the security of the Information Security Policy, defining roles related to the information security process, and preparing and publishing of sub-procedures related to this policy. Within this context, Migros Ticaret A.Ş. is obligated to:
Ensure the confidentiality, integrity and accessibility of information assets; take the appropriate physical and logical security measures suitable for the value of the information in its possession;
Assign access rights and prevent unauthorized access in line with the "need to know" principle in order to control access to the information;
Identify risks at certain time intervals and manage the risks by taking the actions necessary in order to protect the information and information assets;
Ensure the confidentiality and integrity of Migros employees and customer information; within this context to implement the necessary measures with the Law no 6698 on the Protection of Personal Data as its basis;
Arrange training seminars to increase the information security awareness primarily of its employees and all other critical stakeholders with the knowledge that humans are the most important factor in ensuring information security and to follow up on the results thereof;
Provide the necessary infrastructure for guaranteeing the continuity of its services;
Prepare business continuity plans to prevent the interruption of its activities and responsibilities toward its stakeholders in the event of any negative instances and to test such plans;
Develop an intervention process for any information security breach incidents in order to manage and prevent the recurrence of information security gaps and breach incidents;
Keep security needs in mind when developing software;
Take precautions to protect information assets against harmful codes such as viruses and cyberattacks from outside of the Company;
Ensuring that penetration testing is carried out by real persons or legal entities having national or international competence on penetration testing in order to obtain timely information on technical openings of information systems and to determine the vulnerability of the institution against such openings;
Adhere to all domestic and/or international statuary legislation and agreements in support of information security controls.

The Company Information Security Policy is applicable to and mandatory for all personnel who use Company information or business systems regardless of whether they are full time or part time employees, on the payroll or on contract and independent of geographic location or business department. It is essential that third person service providers who do not fall within this classification and persons affiliated therewith such as their support personnel comply with and remain bound by the general principles of this policy and other security obligations and liabilities with which they are required to comply.

Migros Ticaret A.Ş. last modified date: 18.06.2021